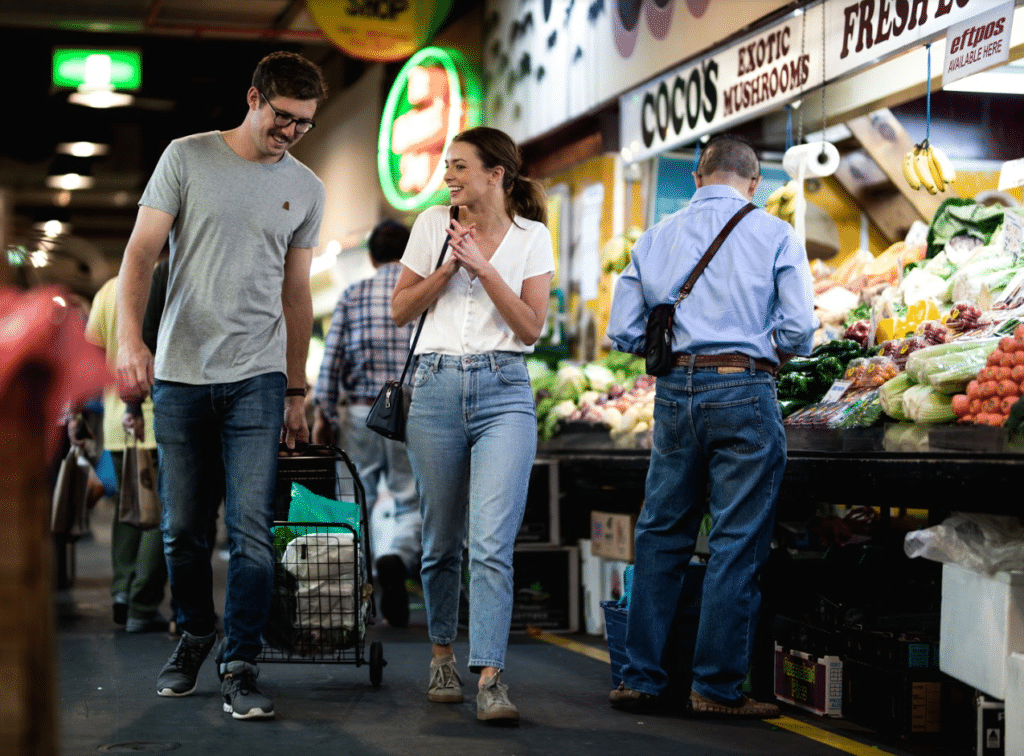 There's nothing better than kicking off your weekend than exploring our Market. Friday nights have become a staple date night for many couples who are keen for a romantic wander through the sights and sounds, whether it's a first date or a weekly date night tradition. Fresh produce, free tastings, incredible eateries and speciality drinks including gin and sangria are all part of Friday evenings at our Market! We've rounded up the best spots to grab a cosy bite for your next date night:
Charcuterie Traiteur:
The term "Charcuterie" is the art of making sausages and other cured, smoked and preserved meats. The team at Charcuterie Traiteur specialise in classic charcuterie items such as sausages and preserved meats. Discover their products, alongside delicious cheeses, crackers and bread to create the perfect charcuterie platter t for two.
Les Deux Coqs:
Les Deux Coqs (meaning the two roosters) started in a former vicarage in a beautiful village called Saint-Amour-Bellevue in Burgundy, that sounds romantic already, right? Take a step into the streets of Paris and enjoy their irresistible pate and baguettes to share at home or a over a glass of mulled wine soaking up the Market atmosphere.
Le Souk:
If you've visited Le Souk before, you'll know referring to it on our top 'date night' spots, is quite ironic. Owner Azou, will 'date' you with a fresh date and help you choose something off the unique menu which is influenced by Arab, Turkish, Jewish and French cuisines, all present in North African food. Take a seat at the bar, sip a fresh mint tea and watch your meal being prepared by their in-house chef!
Cumbia:
One of our newest stalls, Cumbia is named after a Latin American courtship dance… Great start! Perfect for a first date, the stall is at the Grote St end of our Market and focus' on authentic and exotic Colombian flavours. In the bar, there's local wine, South American beer, cider and Colombia-inspired cocktails including sangria!
Comida:
Comida is date night heaven for paella-lovers! Located on the Eastern roadway of our Market, their huge paella dish is sure to impress. Take a seat at the bar and enjoy happy hour from 4pm on Fridays alongside house-made pintxos.
Jamface:
Hidden amongst the isles of fruit and veg, Poh has created a cosy café filled with repurposed goods and small intimate tables. You can order all day breakfasts, or pick up handmade pastries or sweets for later.