The home of innovative, healthy Algerian food.

Vegetarian

Halal
Our unique menu is influenced by Berber, Arab, Turkish, Jewish and French cuisines, all present in North African food. So, take a seat at the bar, sip a cinnamon coffee and watch your meal prepared by our chef.
We offer our hospitality with a big bowl of our twice-steamed couscous with Lamb, Chicken or our house-made Merguez sausages (Algerian classic). If you are vegetarian, we serve our salads with couscous; broad bean and chickpea. For gluten free option, we serve our fragrant brown rice.
Inspired? Cook at home with our range of carefully blended spices: Ras el Hanout, Baharat, Charmoula, Kefta mix, Columbo mix and Tajine mix. Our preserved lemons reach peak maturity before sale and our Red Harissa is a family secret.
Always something seasonal, fresh and aromatic at Le Souk!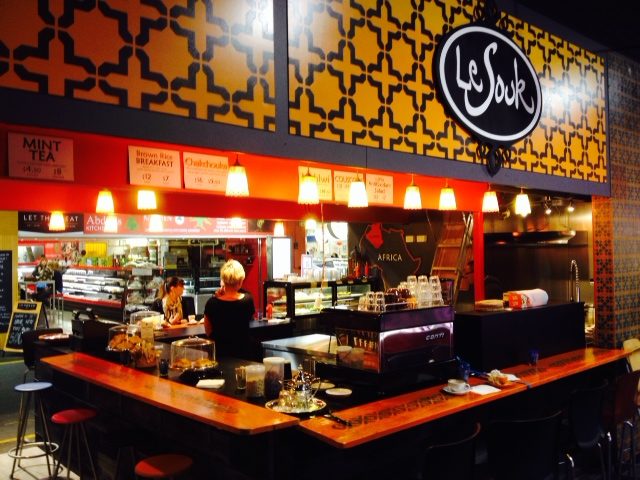 OPENING HOURS:
Monday 9:00am – 5:30pm
Tuesday 7:00am – 5:30pm
Wednesday 9:00am – 5:30pm
Thursday 9:00am – 5:30pm
Friday 7:00am – 9:00pm
Saturday 7:00am – 3:00pm
Sunday  CLOSED
Sign up as a Market Lover to keep up with all of our Market news, produce and recipes!