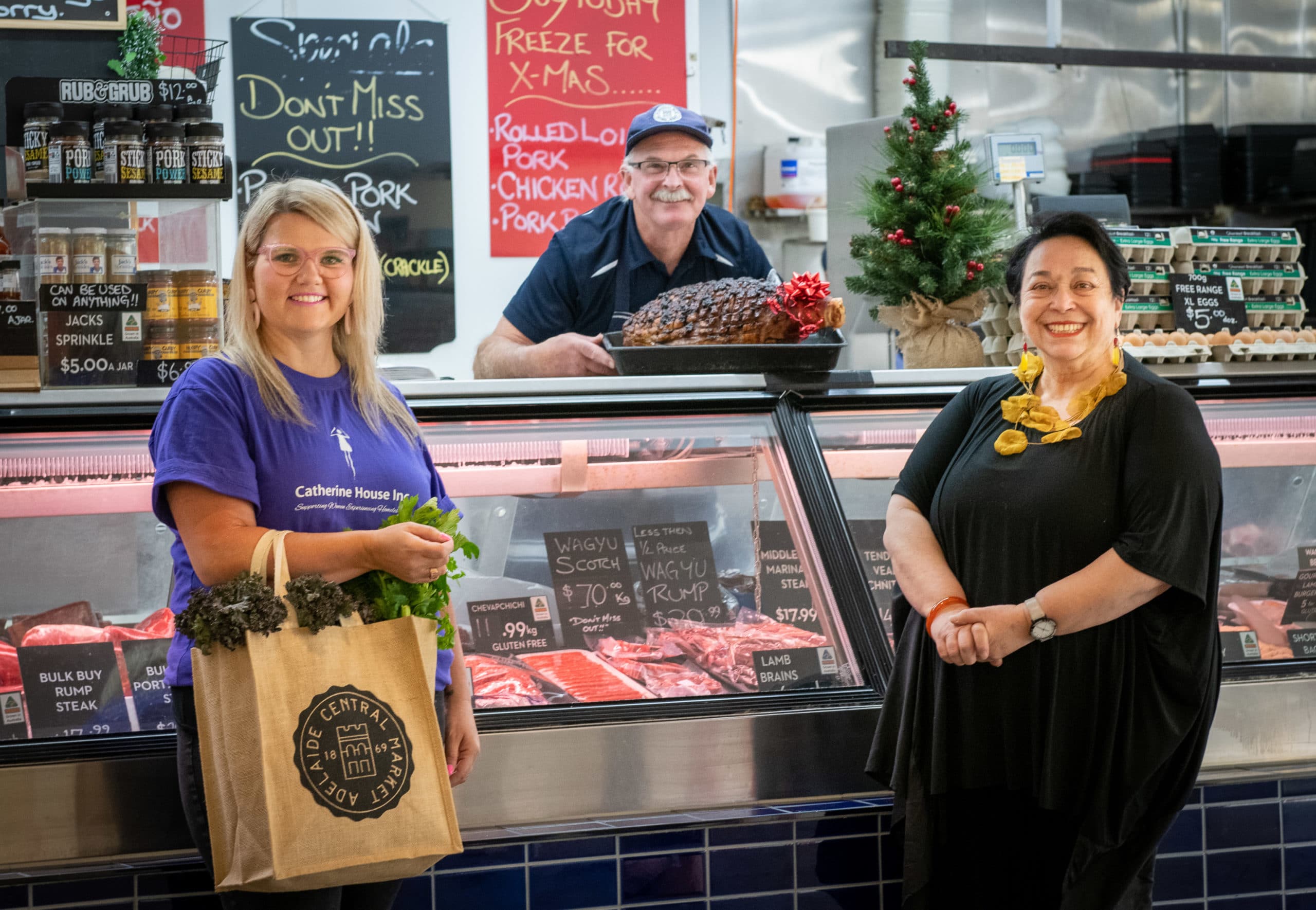 The Adelaide Central Market will bring festive cheer to local charity Catherine House this Christmas, contributing fresh produce and a range of special meal packs for women experiencing homelessness.
Traders will supply all food products for breakfast, lunch and dinner for up to 70 women to enjoy at the Centre on Christmas Day. This includes fresh fruit and veg, meat, seafood, bread, cheese, dips and other specialty items.
The Market will also provide 25 meal packs for women in the Catherine House outreach program who are living alone in their own accommodation, or with their children. The hampers will contain a chicken and vegetables to roast (with cooking instructions), a ham, panettone and gingerbread.
The fresh produce and meal packs will be collected from the Adelaide Central Market on Monday 21 December. Market traders involved in contributing food products to Catherine House include Con's Fine Foods, O'Connell's Meats, Jagger Fine Foods, Providore, Marino Meats, Skala Bakery and Wills and Daniel.
Catherine House is the State's only recovery-based service for women experiencing homelessness.
Adelaide Central Market General Manager Jodie Kannane said the Market was delighted to be giving back to the community, and supporting Catherine House this festive season.
"The Market is pleased to be able to support such an important South Australian charity by contributing an abundance of fresh produce and a range of specialty food items for those women who are really doing it tough this Christmas," Ms Kannane said.
Catherine House Fundraising, Events and Marketing Manager Jaylee Cooper said Catherine House was overwhelmed by the generosity of the Adelaide Central Market traders.
"The support we have received from the Market is hugely significant," she said. "Contributions such as this not only help us continue the vital work of Catherine House, but also make a positive difference to the lives of many women. Knowing the community cares for them means so very much to them at a really challenging time". 
"COVID-19 has greatly impacted women this year, with research indicating women will be worse off as a result of the pandemic. With many jobs being cut, particularly for women working in hospitality, services such as Catherine House continue to be in high demand.
"Our role is not just helping end homelessness for women, but to start them on their recovery journey. To receive such an incredible contribution at this time of year is truly special."
Catherine House provides accommodation and support services for women experiencing homelessness in South Australia. To donate to Catherine House this Christmas, visit: https://catherinehouse.org.au/donate
Catherine House – Women and Homelessness Statistics
Catherine House provides accommodation for up to 59 women at a time
Women represent 44% of all people experiencing homelessness
Almost 60% of women presenting to Catherine House have a history of domestic and family violence
More than 75% of women presenting to Catherine House were experiencing mental health issues
Women 55+ are the fastest growing cohort of all people experiencing homelessness.