Big Market Adventures for Little Foodies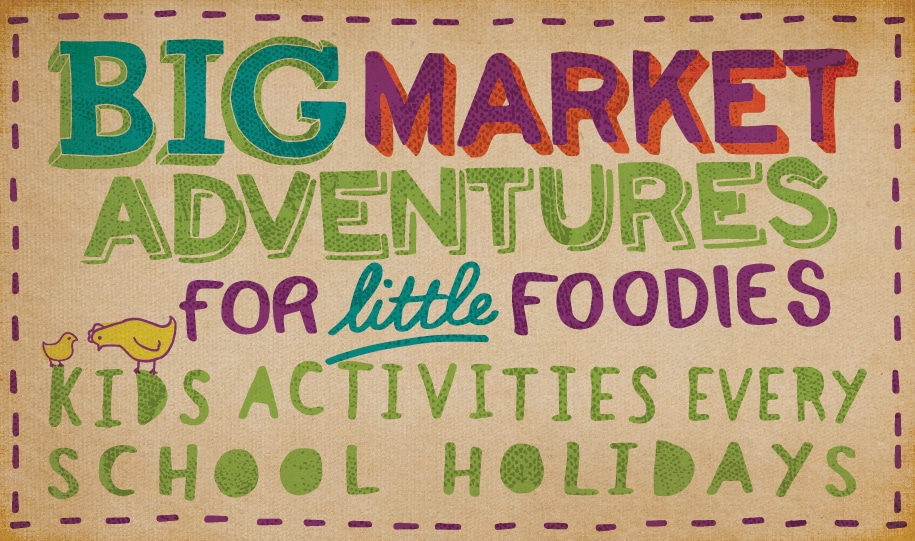 WHEN
July 21 @ 9:00 am – July 21 @ 1:00 pm
WHERE
Adelaide Central Market
Big Market Adventures for Little Foodies is back at the Market these school holidays!  All activities are free or low cost and include the ever popular Market Trail, Little Market Chefs, plus FREE gingerbread decorating and face painting.
Little Market Chefs (6-12 Yrs)
$18 per child (bookings essential)
Tuesday 12 July 10:00AM, 11:30AM, 1:00PM
Tuesday 19 July 10:00AM, 11:30AM, 1:00PM
Thursday 21 July 10:00AM, 11:30AM, 1:00PM
Little Market Chefs is back these school holidays! Here at the Adelaide Central Market we are passionate about starting from ground level and teaching the next generation how to prepare healthy, easy and tasty meals together with nutritional advice. Why? Because good health starts in the kitchen! All of the produce will be fresh from our stalls and the team from Sprout will ensure the classes are not only fun and interactive but have an educational focus too. Each class will include a small take away meal of the dish they prepare.
Please arrive 5 minutes prior to the class, located in Gouger St Dining area (next to Zuma Caffe).
Book here.
Market Trail (all ages)
$12 per child (bookings recommended)
Tuesday 12 July – 9AM – 1PM
Thursday 14 July – 9AM – 1PM
Friday 15 July 9AM – 1PM
Tuesday 19 July 9AM – 1PM
Thursday 21 July 9AM – 1PM
Friday 22 July 9AM – 1PM
*Limited tickets available to purchase on the day
The Market Trail is back due to popular demand!  The trail has been specially formulated for little foodies to learn more about the local and imported produce that the market has on offer.  Each little foodie will receive a market bag and map and visit each of the ten pit-stops to receive a sample item at each stop. The sample items range from cheese, yoghurt, a piece of seasonal fruit and sweet treat.  You can't beat the Market trail for value and fun these school holidays!
It is recommended that you book your place in advance as tickets are limited, however (when available) bookings will be accepted on the day, just head to The Market Stall (near the central Gouger St entrance).
Please note some sample items may contain nuts and it is the parent or carer's responsibility to check all items offered by stalls.
Book here.
FREE Gingerbread decorating
Friday 15 July – 9:30AM – 12:00PM – Grote St dining area
Saturday 16 July – 9:30AM – 12:00PM – Grote St dining area
*bookings not required
FREE Face Painting
Friday 22 July – 9:30AM – 12:00PM – Gouger St dining area