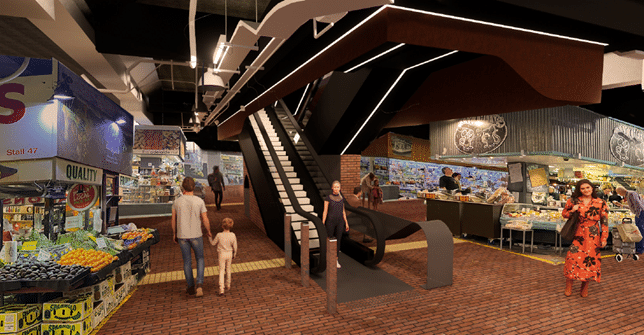 ESCALATOR UPGRADE PROJECT ANNOUNCEMENT: MAY – SEPTEMBER 2021
The Adelaide Central Market escalators will be closed for renovation after trade from 22 May and will reopen to customers in September.
Brand-new escalators are coming to the Adelaide Central Market!
After more than three decades, the escalators located in the heart of our Market will be getting an upgrade.
The refurbishment has commenced with all-new architecturally designed and energy efficient escalators open and ready for customers in September.
Please note: the existing escalators will be closed during this time. To access the Market, all shoppers will be required to use the Gouger Street or Grote Street lifts, or the stairs if you are able. Wayfinding will be installed throughout the Market carpark to guide customers to the Market floor.
Our existing escalators have served the Market well for more than three decades, and we are committed to providing the very best amenities for our loyal customers.
We are excited to take the Adelaide Central Market to the next level with new escalators and adjoining seating area that will provide a safer and more reliable mode of transport for existing and future customers to access the Market for many years to come.
We'd like to thank our Market community and the broader public for your patience while we complete this essential upgrade project. We encourage people to continue to shop local and support our traders during this time.
Members of the public will have the opportunity to view project details, including images of the new escalators, at the main escalator site on Level G, 1 and 2, and at key location stations.
For more information, please contact the Market office on admin@adelaidecentralmarket.com