Drive-through Collection Service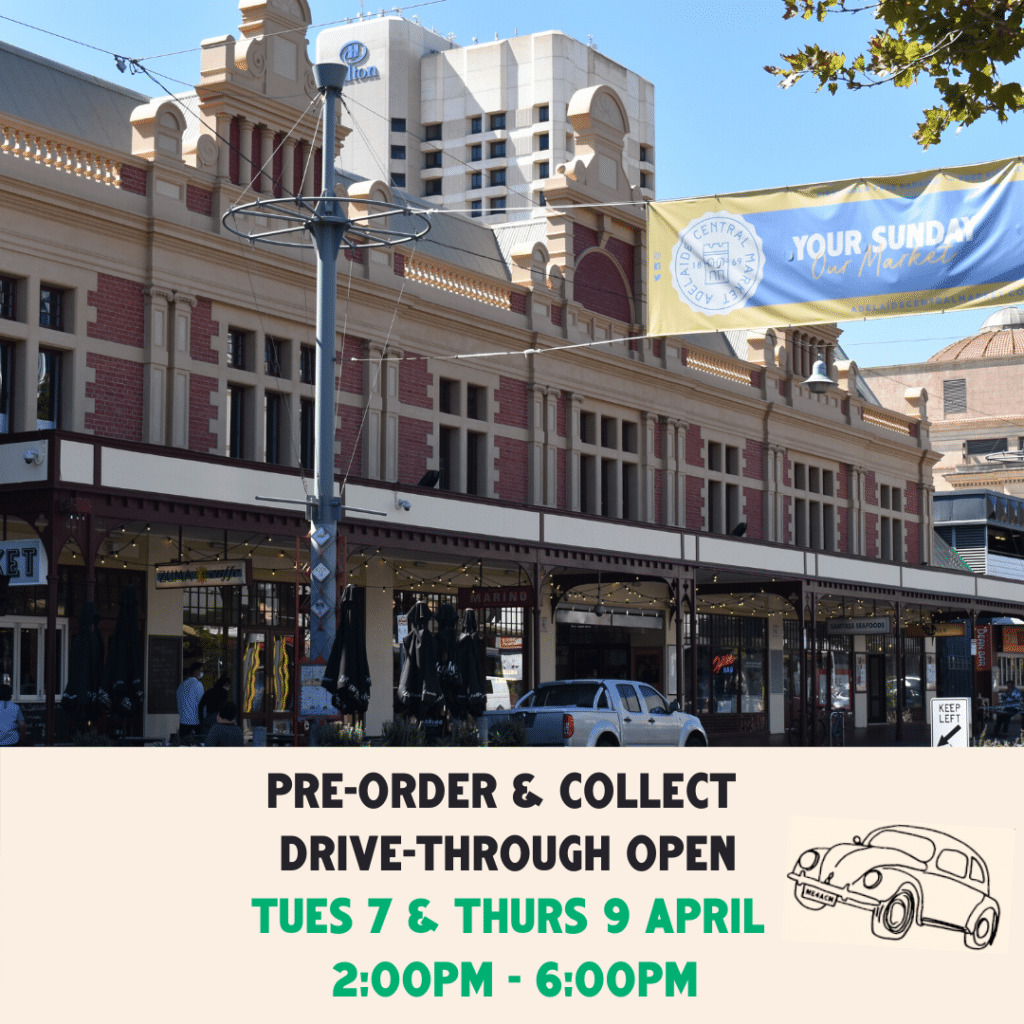 Drive-through Collection Service: Starting Tues 7 & Thurs 9 April
It's not quite business as usual and we understand that  you may not be able to shop as you usually do, so our traders are now offering a range of purchase options including home delivery, in store takeaway and pre-orders by email and phone to minimise your time shopping and maintain social distancing measures.
Our pre-order and collection service is now available on Tuesdays and Fridays via our drive through zone located on Gouger Street. So, you can enjoy your Market produce and goods without leaving your car.
*Please note due to Good Friday, our first week will run on Tuesday and Thursday (7 & 9 April 2020).
When can you order?
You can order at any time, however same day collection will cut off at 11am on collection days to ensure orders can be filled and ready for collection from 2pm.
Drive through collections will be available from 2pm – 6pm on Tuesday 7 April and Thursday 9 April for Easter and then every Tuesday and Friday after that.
How to order
1. Contact your favourite trader to place your order (or find our handy list below) and advise a time you will collect during designated collection hours.
2. Confirm your name and phone number to ensure your details are located on packaging.
3. Collect your order during designated collection hours from the Gouger Street drive through collection point. Staff will collect your order and deliver it to you at your car – you won't even need to get out!
Drive through collection location
The collection point is located on Gouger Street in front of Zuma Caffe and Marino Meat and Food Store. You can easily enter the slip lane by driving along Gouger St from the west (via West Terrace or Morphett Street). The collection point is just after the Gouger Street traffic lights (after the UPark entrance).

Collection hours
Week 1
Tuesday 7 April: 2:00pm – 6:00pm
Thursday 9 April: 2:00pm – 6:00pm (pick up your Easter goods!)
Week 2 and ongoing
Tuesday: 2:00pm – 6:00pm
Friday: 2:00pm – 6:00pm
*Please chat to your favourite trader if you plan to collect your order outside the below hours. All collections are to be pre-paid with traders directly.Read our FAQ here.