Ainsley's Australian Market Menu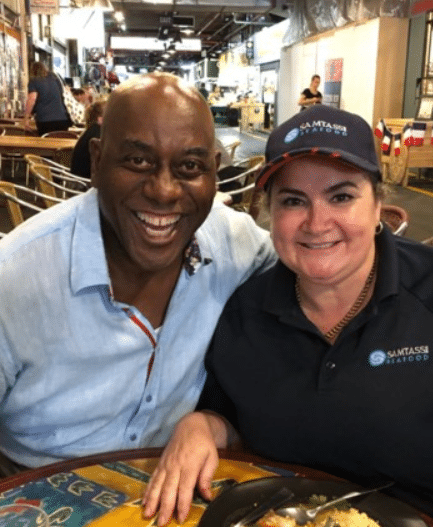 English Chef, TV presenter and Entertainer Ainsley Harriott filmed an episode of his Australian Market Menu at our Market, using fresh Market ingredients to create three dishes.
Excerpt from https://www.sbs.com.au/food/programs/ainsleys-australian-market-menu:
Ainsley's Australian Market Menu S1 Ep6
It's the last stop on this tour, and we've arrived in the heart of Adelaide to visit the Adelaide Central Market, the largest undercover fresh produce market in the southern hemisphere. With a large array of seasonal fruits and vegetables on display, Ainsley spots some green heirloom tomatoes which he matches with a Duck Confit from a French smallgoods supplier. Next up, Ainsley celebrates South Australia seafood with a Moroccan inspired fish tagine. Continuing on with his Morrocan theme, Ainsley grabs a few ingredients for a 'Mango Lassi' with a Moroccan twist, which he shares with the local market goers to celebrate the end of a wonderful tour.