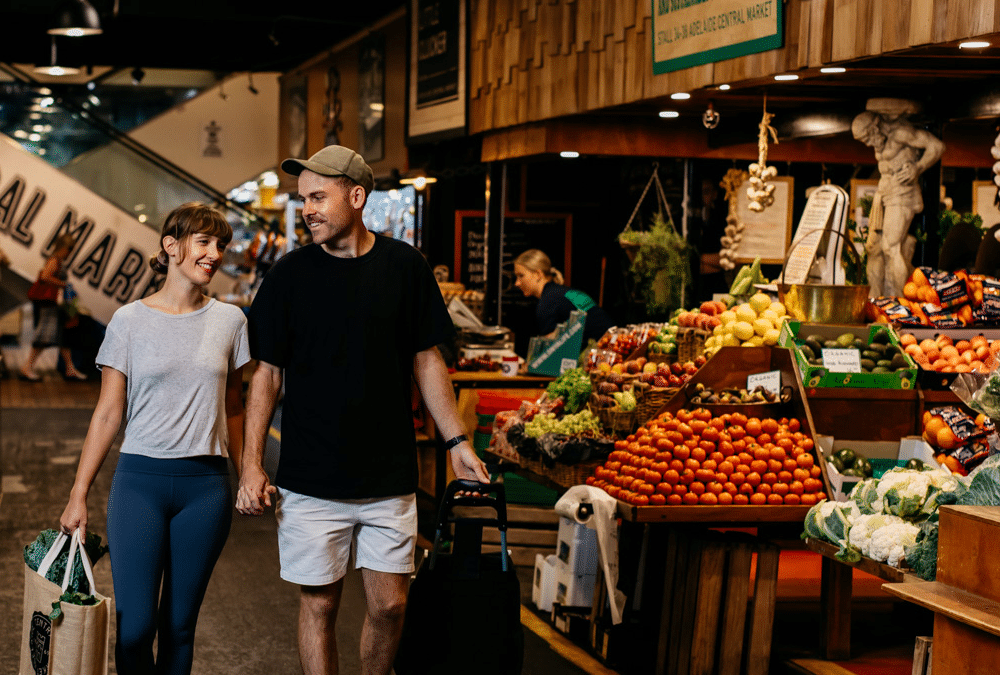 Voluntary Sunday Trading Returns
Voluntary Sunday trading returns to the Adelaide Central Market on Sunday 11 October, with a range of traders open from 8:00am to 3:00pm.
Fresh food and speciality favourites including Charlesworth, House of Organics, Kangaroo Island Stall, Con's Fine Foods, Barossa Fine Foods, Marino Meat Store, Cumbia Bar Kitchen, The Coffee Bean Shop, Le Souk, Real Falafel, Central Market Flowers and The Smelly Cheese Shop will all reopen for voluntary Sunday trading.
A program of free entertainment for families to enjoy will also be on offer from 9:00am – 12:00pm every Sunday in October including nature craft activities, baby disco with Monski Mouse, yoga and live music. Chilli Crab Shack by Sprout at the Producer in Residence Stall will also open on Sunday 11 October.
The Adelaide Central Market is open Tuesday – Saturday, including late nights until 9pm on Fridays. Voluntary Sunday trading commences Sunday 11 October with a range of traders open between 8am – 3pm. The first hour of parking is free.
Traders confirmed for the return of voluntary Sunday trading:
Gewurzhaus (official opening coming soon)
Cumbia Bar & Kitchen
Barossa Fine Foods
Charlesworth Nuts
Asian Green Grocer
Marino Meat and Food Store (9am – 3pm)
The Kangaroo Island Stall
Con's Fine Foods
The Old Lolly Shop
House of Organics
Rommy's Market Garden
The Smelly Cheese Shop
Central Market Flowers
Les Deux Coqs (8am – 12pm)
Real Falafel
The Turkish Delight Mediterranean Sweetery
Standom Smallgoods
Le Souk
Simply Sarj
Fred McMahon's
The Market Bread Bar (pop up in Gouger dining)
The Coffee Bean Shop
Fleurieu Milk
M&M's Fruit Mart
Seven Brothers
Coco's Fruit & Veg (from 9am)
Teaser (from 11am)
Adelaide Central Market advertised trading hours:
Tues    7:00am – 5:30pm
Wed     9:00am – 5:30pm*
Thurs   9:00am – 5:30pm
Fri        7:00am – 9:00pm
Sat       7:00am – 3:00pm
Sun      8:00am – 3:00pm^ (from Sunday 11 October 2020)
Mon     CLOSED
* Selected stalls open | ^ Voluntary trading (range of traders open)