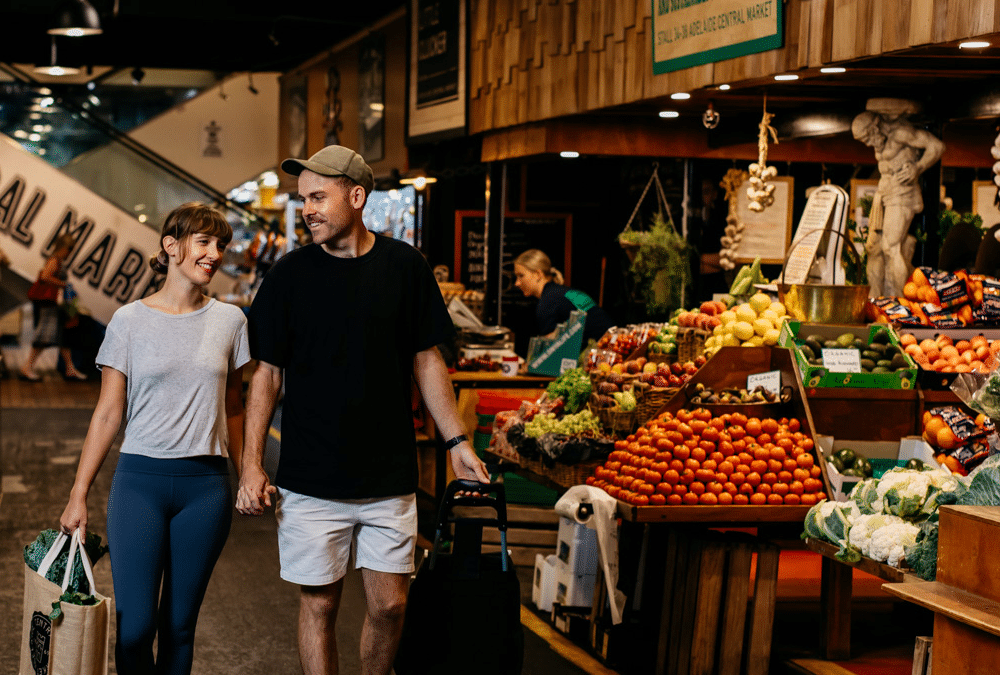 The Adelaide Central Market Authority (ACMA) has confirmed that it will offer customers more time to shop on weekends, with the introduction of a voluntary Sunday trading trial beginning on Sunday March 22, with trading from 8:00am to 3:00pm.
The trial aims to bring Market trading hours more in line with customer preferences and ensure the Market continues to adapt to the changing retail landscape.
Sunday trading is not compulsory for Market traders, however a range of stallholders will be open for business from 8:00am, before major supermarkets and other retailers begin the day.
The Market will still have a range of produce available from all trader categories, with customers able to fill their baskets with fresh fruit and veg, meat, bread, specialty goods, cheese and enjoy a coffee or meal at a number of our eateries.
A program of free family entertainment and live music will be on offer from 9:00am – 12:00pm every Sunday until the end of May and the first hour free parking offer will be extended to Sundays.
Adelaide Central Market advertised trading hours:
Tues    7:00am – 5:30pm
Wed     9:00am – 5:30pm*
Thurs   9:00am – 5:30pm
Fri        7:00am – 9:00pm
Sat       7:00am – 3:00pm
Sun      8:00am – 3:00pm^ (from Sunday 22 March 2020)
Mon     CLOSED
* Selected stalls open | ^ Voluntary trading (range of traders open)
Traders confirmed for the voluntary Sunday trading trial:
Marino Meat and Food Store
Zuma Caffe
Photoco Camera House
Barossa Fine Foods
Charlesworth Nuts
The Kangaroo Island Stall
Con's Fine Foods
The Old Lolly Shop
House of Organics
Rommy's Market Garden
The Smelly Cheese Shop
Les Deux Coqs
Real Falafel
The Turkish Delight Mediterranean Sweetery
Standom Smallgoods
Le Souk
Simply Sarj
Fred McMahon's
The Market Bread Bar
The Coffee Bean Shop
Teaser
M&M's Fruit Mart
Fleurieu Milk Co.
Samtass Seafood Bros