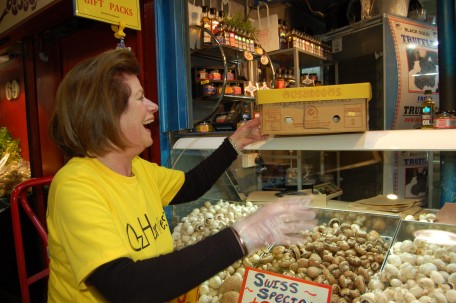 Together with our Market traders, the Adelaide Central Market Authority is committed to reducing its environmental footprint and creating a sustainable future for the Market.
Waste Management
The Adelaide Central Market Authority has reached a significant milestone in its long-term plan for a cleaner, greener and more sustainable Market. With the installation of a Bio Separator in 2019, 100% of Market waste is now diverted away from landfill.
Waste is now diverted to recyclable waste streams which produce compost for the farming industry, biofuel for powering water treatment facilities and processed engineered fuel products which provide a sustainable alternative to the industrial use of fossil fuels.
Food Rescue
OzHarvest are a non-denominal charity that rescues food that would otherwise go to waste, and delivers safely to charities in need.  Many Adelaide Central Market stalls have been participating in food rescue since 2011 collecting over 103,206kg of food, equating to over 309,618 meals.  The wonderful OzHarvest volunteers rescue food every Saturday afternoon.
Click here to view our program of sustainable initiatives for Sustainable September.