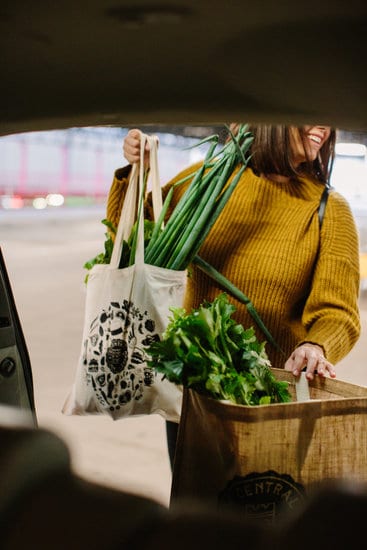 Final Drive-through Collection Service: Friday 19 June 2020
It's not quite business as usual and we understand that  you may not be able to shop as you usually do, so our traders are offering a range of purchase options including home delivery, in store takeaway and pre-orders by email and phone to minimise your time shopping and maintain social distancing measures. Our pre-order and collection service is now available on Tuesdays and Fridays via our drive through zone located on Gouger Street. So, you can enjoy your Market produce and goods without leaving your car.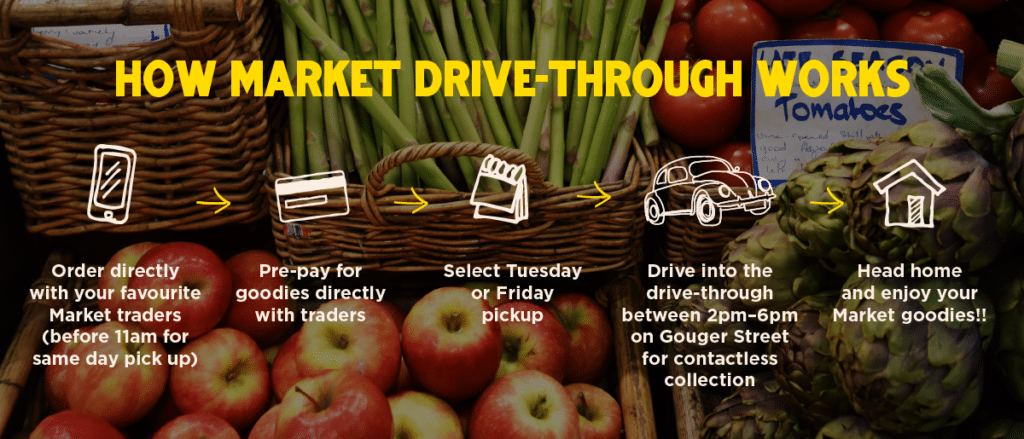 When can you order?
You can order at any time, however same day collection will cut off at 11am on collection days to ensure orders can be filled and ready for collection from 2pm. Drive through collections will be available from 2pm – 6pm every Tuesday and Friday.
How to order
1. Contact your favourite trader to place your order before 11am for same day pick up and advise a time you will collect.
2. Confirm your name and phone number to ensure your details are located on packaging and pre-pay for your goods directly with trader
3. Collect your order during designated collection hours from the Gouger Street drive through collection point. Staff will collect your order and deliver it to you at your car – you won't even need to get out!
Drive through collection location
The collection point is located on Gouger Street in front of Zuma Caffe and Marino Meat and Food Store. You can easily enter the slip lane by driving along Gouger St from the west (via West Terrace or Morphett Street). The collection point is just after the Gouger Street traffic lights (after the UPark entrance).
Collection hours
Tuesday: 2:00pm – 6:00pm
Friday: 2:00pm – 6:00pm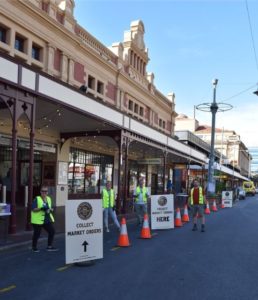 *Please chat to your favourite trader if you plan to collect your order outside the below hours. All collections are to be pre-paid with traders directly.
Read our FAQ here.
---
FRUIT & VEG
Fred McMahon | 8231 2127 
M&M's Fruit Mart | 0407 783 186 
Coco's | 0418 885 345 | cocosfruitnveg@gmail.com
Asian Green Grocer | 0423 709 536  
Seven Brothers | 0401 197 669 | zaharis1@internode.on.net
Thompsons Fruit & Veg | 042424 8389 | thompsonsfruitandveg@gmail.com
Pick Me Fresh | 0410 200 188 
House of Organics | Pre-order here
Rommy's Market Garden | 0401 591 711 or 0421 712 613| rommysmarketgarden@outlook.com.au
McMahon's Fruit & Veg | 8231 2297
Michaels Fruit & Veg | 0419 829 302 | michaelsfruitandveg@gmail.com
Seven Sisters Fresh F & V | 0434 297 678  OR 0424 169 625 
Aubergines | 8231 4994 | Pre-order here
Central Organic | 8211 8526 | orders@houseofhealthcollective.com.au
---
Meat, Poultry & Seafood
Samtass Bros Seafoods | 8211  8600 | samtass.centralmarket@gmail.com
Marino Meat and Food Store | 8231 2565 | riccardo@marinomeats.com.au
O'Connell's Meats | 8231 2840 
Standom Smallgoods | 8447 2807 | centralmarket@standom.com.au
Meat At The Market | 0438 095 997 | meatatthemarket@gmail.com
Poultry Cuisine | 8231 3707 OR 0417 816 751
Something Wild | 0452 466 252 OR 0417 490 603 | contact@somethingwild.com.au
Barossa Fine Foods | 8231 2575 | CentralMarket@barossafinefoods.com.au
Vegas Gourmet Poultry | 8212 1476  OR 0417 816 751 | Pre-order here
---
Continental & Cheese
Lucia's Fine Foods | 8231 2260 | admin@lucias.com.au
Charcuterie Traiteur | 8231 2260 | admin@lucias.com.au
Les Deux Coqs | 0448 526 126 
The Mettwurst Shop | 8231 7171 | themettwurstshop@internode.on.net
Con's Fine Foods | 8211 7972 | admin@consfinefood.com.au
Smelly Cheese | 8410 7328 
Corner Deli | 8410 2222 
Say Cheese | 8231 0347
---
Bakery & Patisserie
Dough | 8211 9640
The Market Bread Bar | 8410 0156 OR 0402 317 262
Gourmet To Go | 8231 4226  OR 0415 183 495 | stall42central@bigpond.com
Providore | 8231 5977 | Pre-order here
---
Nuts, Coffee & Confectionary
The Turkish Delight | 0422 015 575 
The Grind @ Central | 8212 7300 | silvio@thegrind.com.au
The Old Lolly Shop | 8212 4122 
The Coffee Bean Shop | 8410 2525 | info@caffedamitolo.com
Charlesworth Nuts | 8231 9449
---
Specialty
The Kangaroo Island Stall | 0403 527 507 | Pre-order here  
Jagger Fine Foods | 0438 913 838 | robyn@jaggerfinefoods.com.au
Mushroom Mans Mushroom Shop | 0400 189 303 
The Yoghurt Shop | 0478 663 502 | acm@theyoghurtshop.com.au
Love Jamu | 0413 290 238 OR 0467 493 119 | jamuacm@gmail.com
House of Health | 8231 2490 | orders@houseofhealthcollective.com.au | Pre-order here.
The Olive Tree | 8212 0011 | Pre-order here | 
---
Non-produce
Central Market Flowers | 8231 3002
PhotoCo Camera House | 8231 5632 OR 0497 455 620

---
Café & Eatery
Zuma Caffe | 8231 4410 | john@tbar.com.au
Teaser | 0405 655 316 
Cumbia Bar Restaurant | 08 8221 6879 | info@cumbia.com.au
Lucia's Pizza and Spaghetti Bar | 8231 2303 | admin@lucias.com.au
Asian Gourmet | 8231 9657 
Real Falafel | 0476 376 903 | realfalafel.sa@gmail.com
Sunmi's Sushi | 8211 7373
Le Souk | 0477 023 955 | lesouk@outlook.com
Simply Sarj | 0422 128 828 | simplysarj@gmail.com
Big Table | 8212 3899 | thebigtable@bigpond.com
Atlas Continental | 0400 202 462